CREATE SEAMLESS CUSTOMER EXPERIENCES WITH FRESH RELEVANCE'S SMARTBLOCKS
Creating a seamless multi channel customer experience just got a lot easier all thanks to Fresh Relevance's Smartblocks…
Charley who does the marketing at Charley's Gift Shop has a tricky job. She needs to personalize the experience of all her customers across all channels.
Charley creates one email and sends it to her whole list. She has created different smartblocks, which will show to customers paired with product recommendations based on their most frequently browsed category.
These smartblock banners and recommendations will be repeated on the homepage of the website when Charleys customers view it, completely congruent with the email content. Data is collected in real-time as the customer is browsing the website, updating the smartblocks to correspond the activity. This means recommendations and banners will update in real-time to give a seamless customer experience, only seeing content that is still relevant to them, and Charley can sit back and watch the sales increase.
A study by Janrain found nearly three-fourths (74%) of online consumers get frustrated when content (e.g. offers, ads, promotions) appears that has nothing to do with their interests. To drive sales and reduce customer dissatisfaction, consider including personalized, dynamic content in your emails.
So…Charley is smart…Be like Charley.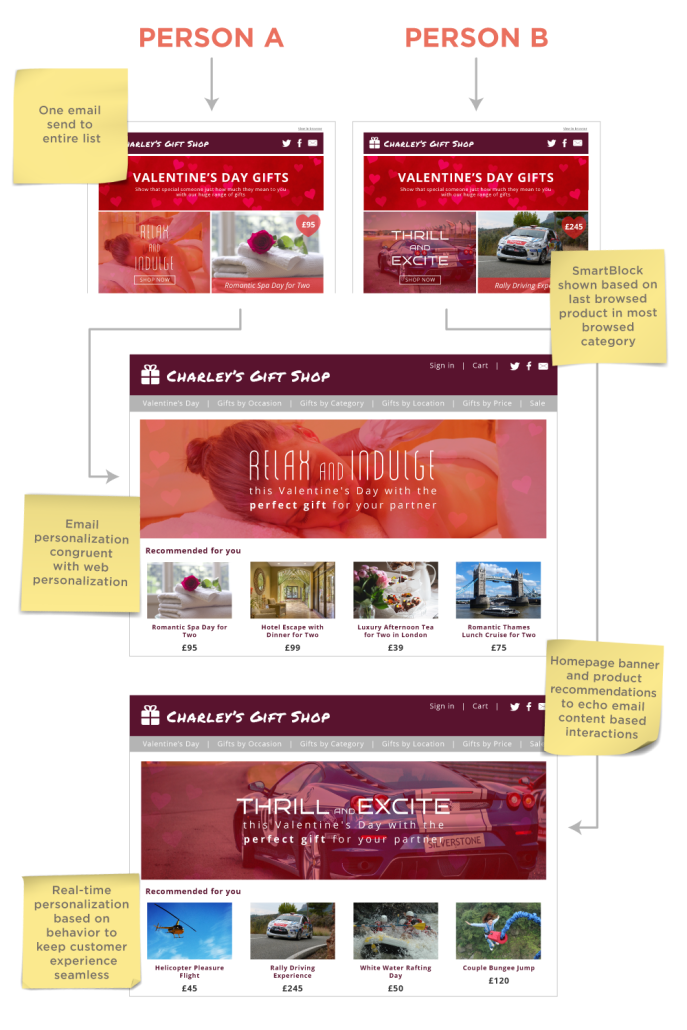 [av_hr class='custom' height='50' shadow='no-shadow' position='center' custom_border='av-border-thin' custom_width='50px' custom_border_color=" custom_margin_top='30px' custom_margin_bottom='30px' icon_select='yes' custom_icon_color=" icon='ue805′ font='entypo-fontello']
For further information please contact:
Kalle Rajala, Client Manager – Core Relations Nordic AB
Email: info@corerelations.com
Phone: +46 40 616 00 77