Salesforce Marketing Cloud June 2015 Release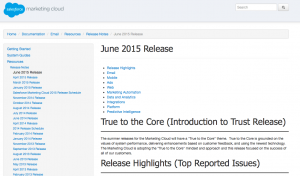 The summer releases for the Marketing Cloud will have a "True to the Core" theme.  True to the Core is grounded on the values of system performance, delivering enhancements based on customer feedback, and using the newest technology. The Marketing Cloud is adopting the "True to the Core" mindset and approach and this release focused on the success of all of our customers.  Here are some of the highlights:
NAVIGATE QUICKLY WITH IMPROVED LOADING SPEED
The June 2015 release includes numerous speed improvements in the loading time of the Marketing Cloud Dashboard and several of our applications, including Email, Automation Studio, and Contact Builder.
SYSTEM PERFORMANCE
In the Email app, when clicking on a folder that contains over 300 email messages, the screen will now render in less than a second for users with extremely large numbers of emails in any of their folders. Also, saving extremely large emails can now finish in less than a second.
EMAIL ENHANCEMENTS
Sometimes mistakes cannot be controlled, like a broken link inserted into an email. Now you can send worry-free emails, because users with the Account Administrator and Content Creator roles can now edit the links in a specific job directly from your account after the email job completes sending. You must allow the Salesforce Marketing Cloud to track your click data if you wish to use this feature. Editing links will only change the email message associated with the specific job. This feature will not edit the original email. You can use this feature after the June 2015 release. Learn more >
View the entire June 2015 release notes for updates in the Mobile, Ads, and Web applications. If you have any questions on how this may impact your account or email marketing efforts, do not hesitate to contact us at support@corerelations.com