Marketing Automation: Triggered emails lift clickthrough with 525%
How can you build a relationship with your customers? According to a case study made by Erin Hogg (2015) just sending batch-and-blast marketing promotions won't cut it; you have to start a conversation based on your customer's behaviors and turn that first interaction into a second.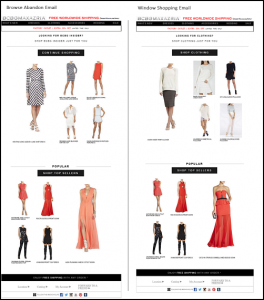 BCBGMaxAzria, a top clothing and accessories brand for women, implemented marketing automation to capture customer behavior on the site to send triggered emails to the right customers at the right time. See what triggers the brand integrated and how these targeted messages have achieved a 525% lift in CTR as well as a 220% increase in opens compared to the brand's non-triggered sends.
The BCBGMaxAzria and BCBGMaxAzria Runway labels are sold in 700 freestanding boutiques and shop-in-shops at top department stores across the globe as well as online.
The marketing team had been working toward revamping its overall approach to email marketing, with a goal of increasing revenue, creating a more personalized connection with customers and improving day-to-day marketing tasks.
BCBGMaxAzria needed a powerful solution that would help optimize these processes and utilize customer data in order to create effective, customized email marketing campaigns.
The BCBG team began the automation initiative with four email triggers on the site:
Abandoned search
Abandon browse
Abandon cart
Post purchase
The abandoned search and browse, which the team refers to as window shopping, as well as the cart abandonment are top of the funnel triggers.
The new arrivals email is based on products that are recent additions to BCBG, as well as being focused on a customer who has engaged with the brand in the past.
An example of this could be that BCBG just added 50 new products, some of which are black cocktail dresses. The automation system can determine who was on BCBG.com and looked at black cocktail dresses but did not purchase. That customer will then receive an email with new arrivals that are black cocktail dresses or best sellers. If a subscriber has not been looking at a specific product category, they would not receive a segmented content send. Each customer is also part of the larger marketing email program, so they are receiving regular communications as well as triggered sends.
RESULTS
The triggered email sends average a 525% increase in clickthrough rate when compared to the non-triggered sends. In addition, open rate has seen a lift of more than 220% when compared to the brand's non-triggered sends.
In the first quarter of implementation, the triggered emails represented 20% of all revenue generated via the entire email program.
From there the triggered emails have a 20% to 40% revenue contribution every week. This has been key because, regardless of what marketing promotion emails are being sent out, triggered sends will at least contribute up to 40% in revenue each week.
Case Study, by Erin Hogg (2015)
[av_heading heading='Increase revenue with Fresh Relevance' tag='h3′ style=" size=" subheading_active=" subheading_size='15' padding='10' color=" custom_font="][/av_heading] [av_promobox button='yes' label='LEARN MORE' link='manually,http://corerelations.com/products/triggeredmessaging/' link_target=" color='black' custom_bg='#444444′ custom_font='#ffffff' size='medium' icon_select='no' icon='ue800′ font='entypo-fontello' box_color=" box_custom_font='#ffffff' box_custom_bg='#444444′ box_custom_border='#333333′]
Boost revenue with highly personalized customer experiences across channels and devices
[/av_promobox]