Lifecycle Marketing – A must for your digital strategy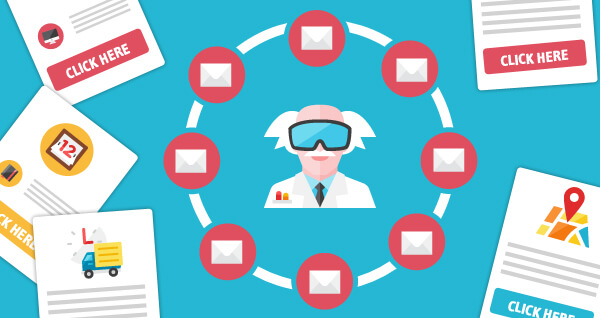 Since email marketing offers a lot of new opportunities for modern businesses, especially thanks to the popularity of mobile devices to browse products, share and receive information, it's important to use the channel right. If you only  use email to promote special offers or in-store events, then you're probably not getting the most use out of it.
Through email you have a 24/7 line of communication with your customers, which means you can send them information at any stage of the buying cycle. Whether they're just toying with the idea of making a purchase or actively comparing what's available in the market, right through to after they've made the actual purchase – you can make sure your products and brand are always at the forefront of their attention.
The promotion and selling of products or services is now just a very small part of the whole customer lifecycle. To run a successful email marketing campaign, you need to know where each of your customers sits within their purchasing cycle and communicate with them accordingly – The customers' lifecycle!
It generally begins when they are introduced to your business. It is a chance for you to tell "your story". Once they are aware of your brand, you then need to determine what they really desire and interact with them on a personal level. If the experience is positive then the customer journey will continue. The end goal is for you to build loyalty and make your customers become your "fans" – which means they trust your brand, actively promote your products or services, and will ultimately help you build a community online.
At every stage of the customer lifecycle, the emails you send out need to be personalized and unique to the individual's experience. You cannot simply send the same generic mass message to all customers. The message must be different for people who are hearing of your business for the first time, compared to those who regard themselves loyal customers.
When used effectively, email can be used to trigger almost any desired outcome. Whether you want customers to register to your email database, share your website, browse products, buy products, visit a branch or call you directly. You can use email to attract new business, reward existing customers and reactivate old accounts.
Some of the most common stages within a typical customer lifecycle:
Onboarding Emails
What happened when you started your last job? Did you arrive at work on the first day and your employer just expected you to know everything? No. Hopefully you went through an onboarding process, which means your boss (or someone in the office) showed you around, explained the ins and outs of the company and hopefully made the experience a positive one. The idea is to improve your initial perception of the business and consumer onboarding should be no different. If someone has signed up to your newsletter or purchased something from you for the first time, it's important you take the time to welcome him or her personally and show appreciate for his or her business. As they say, first impressions last.
Why not start your all relationships with customers in the best possible way? Tell them how grateful you are they have signed up, shower them special offers and give them a reason to talk with their friends and family. You could even follow up by pointing out what else they might like within your business, whether it's various products or just features on your website.
Onboarding emails can take many different forms; depending on what kind of company you are and what action you want recipients to take. The three main stages of onboarding marketing are essentially:
Getting customers "interested"
Ensuring they're "engaged" and;
Making sure they're "committed" to your brand.
Below are some of the more common forms of onboarding email:
Generic welcome email
Personalized welcome email
Getting started/What you need to know email
How to activate your account email
Start your trial email
Edit your profile email
Subscriber Emails
Subscriber emails are typically used by any business or organization that host and regularly update a news section or blog. If you spend time creating original content and posting on your website, subscriber emails are generally used to alert your followers about new content and recap the best pieces posted during the previous week or month.
Subscriber emails are primarily for keeping your audience engaged and up-to-date. Today's consumers tend to use their email to scan through information and separate the one or two pieces they want to follow up. By gathering your most popular stories, you have a greater chance of grabbing their attention and leading them to your website.
Here are some of the most popular types of subscriber emails:
Trending blog/news items emails
Weekly/monthly recap of news/articles email
Special offer emails
New features/updates to the website emails
Thank you for subscribing emails
Promotional Emails
Promotional emails tend to have the best open and click-through rates, merely because they are the most rewarding for the recipient. Generally, promotional emails will include some kind of benefit or special offer – they are used to promote sales, product launches, special events and seasonal occasions. The most common types of promotional emails include:
Special offer/discount/coupon emails
Competition and giveaway emails
Online/in-store sale information
Holiday, seasonal or timely emails
Business announcements
Product launches
Service upgrades or changes
Apology emails or special announcements
Event invitation and/or details
Transactional Emails
Transactional emails are intended to assist or improve the user experience during the purchasing process. They are usually more beneficial for businesses that conduct a majority of their transactions online but can also be useful for anyone promoting their in-store services. The most popular forms of transactional emails include:
Automated receipts and order confirmation emails
Password reset emails
Opt in or opt out emails
Account change or requirement emails
Order tracking and shipping information
Pick-up reminder emails
Credit card expiry emails
Behavioural Emails
Behavioural emails are used to entice or encourage customers to perform a particular action, by appealing to their personal interests or needs. Ultimately, a behavioural email should make the recipient feel special or at least try to give the impression you're putting the customers' best interests first.
Below are some of the most popular types of behavioural emails; however the most effective method will depend on what your business does and who your target audience is:
Abandoned shopping cart emails
"You might also like these…" emails
"Tell us how we did" emails
Feedback questionnaires and survey emails
Loyalty emails
Reward for purchase/milestone emails
By Michael Colman
Keep in mind – how you plan your digital marketing depends on your particular business model, industry and customer demographics. Every strategy should start with a plan. Gather all the data you can about your existing and/or desired markets. Find out who they are, where they live, what their interest are, when they´re likely to purchase and what information they need  – all this for you to be able to lead them successfully through the customer lifecycle of your business. Learn more through our Campaign Workflows >>