Fresh Relevance three-time winners of Email Innovation of the week
Fresh Relevance – our nordic partner – the real-time engagement marketing company, announced that they have just won Only Influencers "Email Innovation of the Week" for the third time, with their coupons feature.
[av_heading heading='Coupons from Fresh Relevance' tag='h3′ style=" size=" subheading_active=" subheading_size='15' padding='10' color=" custom_font="][/av_heading]
Fresh Relevance now issue coupons to individuals opening emails or visiting a client's website. This allows online retailers to create unique coupons on their eCommerce system, then target these coupons to individual shoppers as part of an email campaign.
Mike Austin, CEO of Fresh Relevance states, "For many shoppers, it is the most important factor when the word 'Coupon' in an email subject line has been proven to drive high open rates."
As each individual opens an email from the campaign, Fresh Relevance will allocate a coupon to that person. Each time they open the email, they will see the same coupon, with a unique code for them. The coupon is formatted when the email is opened, so it can also expire after a period of time. They will then see a different message/creative, as chosen by the marketer.
The new Fresh Relevance coupon feature makes use of easy-to-manage Slot Rules, making it quick and simple to create and distribute:
Hourly coupons: Use a single slot to display the current hourly coupon.
Cascading offers: As shoppers buy more they get to see successively more valuable coupons.
Limited quantity offers: Only the first 1000 people see a coupon.
Time-based discounts: A discount that drops over time, or other exotic offers, in to email.
[av_hr class='invisible' height='5′ shadow='no-shadow' position='center' custom_border='av-border-thin' custom_width='50px' custom_border_color=" custom_margin_top='30px' custom_margin_bottom='30px' icon_select='yes' custom_icon_color=" icon='ue808′ font='entypo-fontello']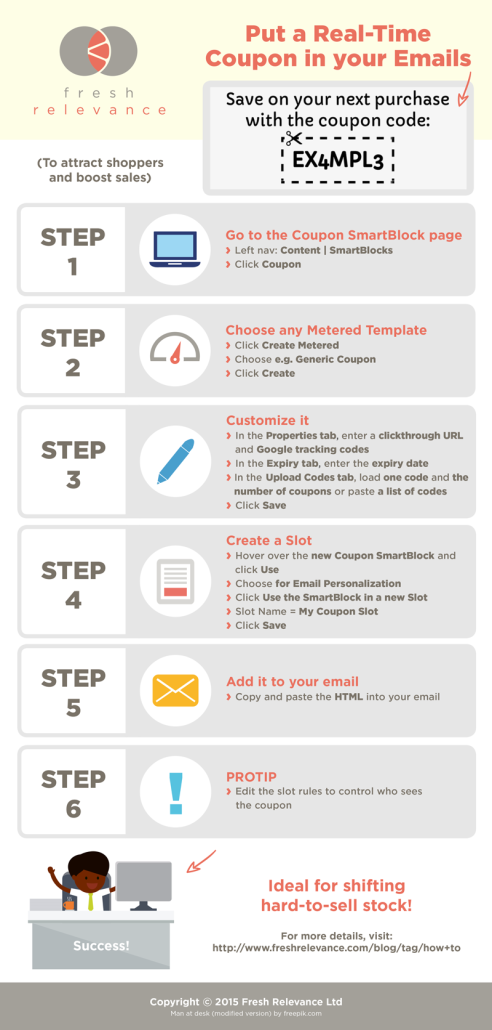 ---
For further information please contact:
Kalle Rajala, Client Manager – Core Relations Nordic AB
Email: info@corerelations.com
Phone: +46 40 616 00 77
---