Content Retargeting and Content Engagement
The ultimate guide to personalisation according to Econsultancy (2014): Content Retargeting and Content Engagement | Ecommerce websites are now places to curate brands and promote customer interaction. Editorial content is a key tool to ensure consistent engagement for continued sales and results. Here are 2 examples of how you can use content to help increase conversion rates:
Using content to drive engagement
Having enticing content on your website not only informs customers, but also make sure it engage the customers with the brand. Great content encourages customers to spend longer time on the website and this added level of engagement can often point customers in the direction of making a purchase.
For example, Sony PlayStation's blog provides a wealth of creative, engaging content to persuade new and existing customers to choose their games console over competitors: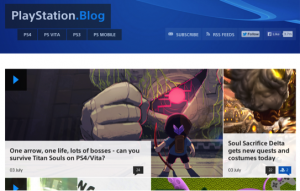 Targeted content for targeted results
Content retargeting allows marketers to serve customers with specific content. This includes techniques such as retaining past searches or re-engagement through blogs. Aligning your content in a personalised manner allows you to streamline the customer experience of your brand across different platforms. This involves matching on-site content with other campaigns to remind customers of products and deals they have seen elsewhere. Stationery retailer Staples, for example, target returning users who have entered from a previous email campaign with related content.
Booking.com's homepage is a great example, not only does it remember the destination a visitor has searched for the next time they return, it also serves suggestions of other similar destinations in a section called 'recent searches':